Home inventory manager and things organizer for iPhone/iPad.
With Stuffanizer you'll get all your stuff organized, simply, fast and visually with your fingertips.
Tutorials:
See 'How to create a new item'
See 'How to create a location and move it'
---
Stuffanizer solves situations similar to these:
You want to buy new batteries for the bathroom's radio and you can't remember the type.
Many friends lent you clothes for your baby and you can't remember to whom return them.
You want to buy that wine for the party, but you don't remember which one was.
You want to register and organize your watch collection.
You're moving and want to know where is every thing.
You have suffered a theft and your insurance has asked you for a detailed list.
With Stuffanizer all your important info abut your belongings can be saved in your iPhone or iPad.
---
Features
Create your custom locations with unlimited levels
Set the order on your locations
Drag and drop your stuff into your desired location
Tag your stuff with unlimited tags
Take photos of every thing
Locate your things with a useful and easy searcher
Export all your stuff information in pdf
Possible Uses
Organize your music, books or collections
Remember any borrowed objects
Take with you your favorite wine list
Your best recipes always ready
Be prepared for theft, fire or flood
And anything your imagination create
---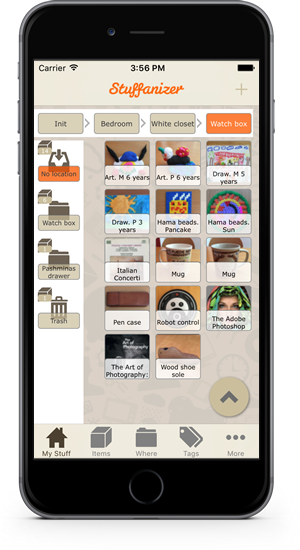 Have your stuff organized.
Drag & drop with your fingers.
At "My Stuff" you can organize every item by dropping them into the desired locations. Navigate inside every location by clicking into it. With the breadcrumb you know where are your things.
---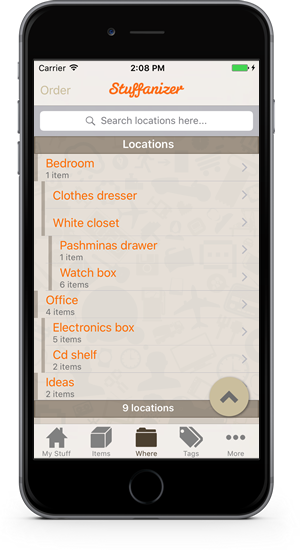 Unlimited locations.
You can nest them unlimitedly.
You can group all locations by parent location, you'll see the hierarchy.
---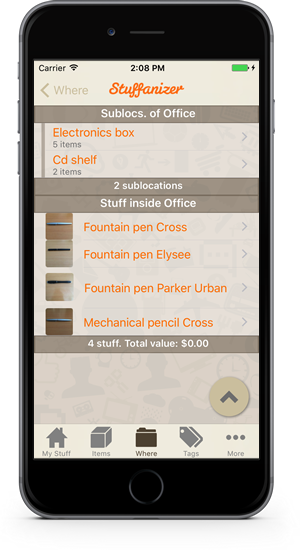 Things located or tagged.
Every location or tag has a view with related things.
Everything can be tagged unlimitedly and be located. You always will know the content of a location or tag by entering into it.
---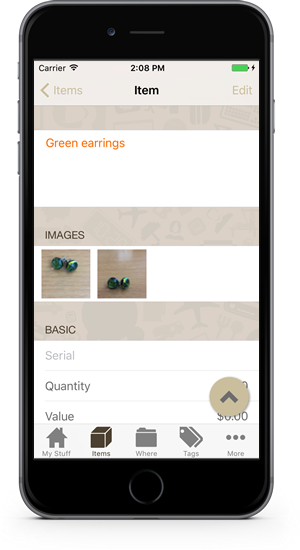 Inside the stuff view.
All the info visible.
Inside the stuff view you can see all the related information and its photos.
---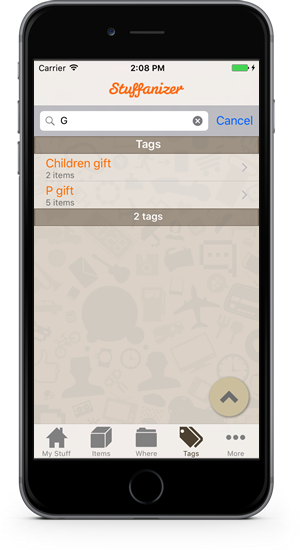 And lastly, the searcher.
Because you need find your stuff.
With a simple searcher you'll find everything you want in your app.
---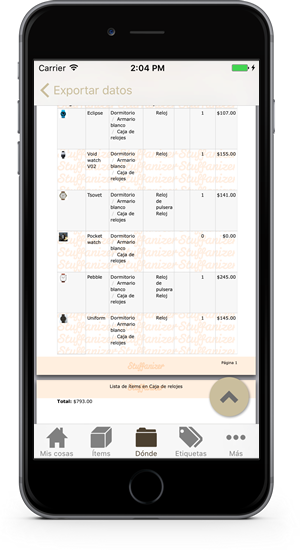 Pdf reports.
Customize and share your data.
Select the data you want to share and send it by Mail, WhatsApp, Telegram ...
---
Please feel free to contact us with any suggestion at stuffanizer@stuffanizer.com
---